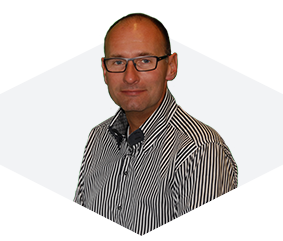 Ralph van der Stel
Senior consultant (Management)
Mail: r.vdstel@ibs-sp.com
Phone: +31 (0)78 62 50 920
Mobile: +31 (0)6 51 04 69 15

Ever since I graduated as an applied physicist, glass has been the guiding theme in my career. Post-graduate courses and jobs at TNO and in the glass industry inevitably led to what suits me best, which is technical consultancy. I have enjoyed doing this since 2002 at IBS Consultants, of which IBS Special Projects is a subsidiary, the company I launched together with Kees Isendoorn and Peter de Boer.

I include glass technology, building physics, building acoustics and building standards in my specialist portfolio, and always in combination with the characteristic outer skin of the building, its facade.
Operating at the centre of the web that connects form, function and technology in the building industry is a constant challenge, and it's great!

I set high standards for the work my colleagues and I produce, but I also like to think that IBS consultants have a knack for communicating with our clients. That means they can put a clear message across, in writing, at the meeting table and on site.